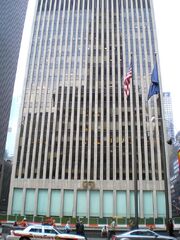 Exxon /ˈɛksɒn/ is a brand of motor fuel and related products by ExxonMobil. From 1972 to 1999, Exxon was the corporate name of the company previously known as Humble Oil or Standard Oil of New Jersey.
References
Edit
Ad blocker interference detected!
Wikia is a free-to-use site that makes money from advertising. We have a modified experience for viewers using ad blockers

Wikia is not accessible if you've made further modifications. Remove the custom ad blocker rule(s) and the page will load as expected.