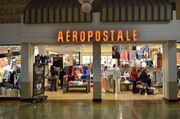 Aéropostale, Inc. (occasionally known as Aéro) is an American shopping mall-based specialty retailer of casual apparel and accessories, principally targeting ages 14-to-40-year-old men and women through its Aéropostale stores and 4-to-12-year-old children through its P.S. from Aéropostale stores.[1] Aéropostale maintains control over its proprietary brands by designing, sourcing, marketing and selling all of its own merchandise. The company operates 914 Aéropostale stores in the U.S. (spanning all 50 states and Puerto Rico) and about 75 stores in Canada. P.S. from Aéropostale operates 97 stores in 22 U.S. states.[1] Aéropostale's licensees operate 20 Aéropostale and P.S. from Aéropostale stores in the Middle East, Asia, Europe, Mexico, and Panama.
The first Aéropostale store was opened in 1987 by Macy's in the Westside Pavilion Mall in Los Angeles, CA. The company has grown from 119 stores in 1999 to the current 916[3] nationwide.
References
Edit
↑ 1.0 1.1 1.2 "Aéropostale, Form 10-Q, Quarterly Report, Filing Date Dec 3, 2012". secdatabase.com. http://edgar.secdatabase.com/848/116821312000041/filing-main.htm

. Retrieved Dec 30, 2012

.

 

↑ 2.0 2.1 2.2 2.3 2.4 2.5 "Aéropostale, Form 10-K, Annual Report, Filing Date Mar 28, 2012". secdatabase.com. http://pdf.secdatabase.com/822/0001168213-12-000015.pdf

. Retrieved Dec 30, 2012

.

 

↑ Cite error: Invalid <ref> tag; no text was provided for refs named search4stores
Ad blocker interference detected!
Wikia is a free-to-use site that makes money from advertising. We have a modified experience for viewers using ad blockers

Wikia is not accessible if you've made further modifications. Remove the custom ad blocker rule(s) and the page will load as expected.